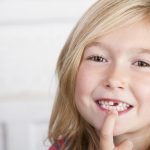 Help your child conquer it with these helpful tips
Being a kid isn't always easy—especially when it comes to losing teeth. Depending on the teeth and the kid, the process can be exciting or daunting. Most kids start to lose their teeth around age six, typically starting with the front teeth.
If you have the kid who can't wait to wiggle out a tooth so he can safely stash it under his pillow for the tooth fairy, then you're lucky!
But if your child is the one who won't touch that loose tooth for anything (including brushing it and chewing with it) then it's time to up your game.
There may not be an app for that, but here at Gladstone Family Dentistry we do have a Home Extraction Kit! Arming your child with this special "toolkit" can help him feel more ready for the task at hand.
Our helpful kit includes topical anesthetic numbing gel on cotton-tip applicators, which you can dab onto your child's gum around the loose tooth. Within minutes, this gel helps to numb the area, helping a nervous kid find the bravery to pull it out.
We like to use the mantra, "Wiggle, wiggle, twist, twist… then a little tug!" for explaining the process of tooth extraction to kids. These motions will often do the trick and pull out the tooth in question. Once out, have your child bite down on a gauze square (included in the kit) while everyone does the happy dance!
After the bleeding has stopped, check the gum for any baby tooth fragments. In most cases there won't be any, and you may even see the new tooth peering through the gum line. However, if there are any fragments, be sure to book a visit with our office so we can be sure to properly remove them.
Helping your child to get her baby teeth out properly is important, especially when you can see a new permanent tooth underneath. If a loose tooth remains too long, plaque bacteria can be trapped, causing gum irritation and inflammation, as well as the risk of a cavity.
If your child has an extra stubborn tooth and all else fails, a visit to our office may be in order. Using some anesthetic to numb the area, we can solve the problem quickly and nearly painlessly. We'll even join in on your happy dance!
So don't keep the tooth fairy waiting around to collect those baby pearls. Bring your child in to pick up one of our Home Extraction Kits today, so she can start saving that tooth money!