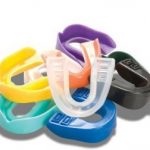 If you have an athlete in the family, then you're probably acquainted with mouthguards. But did you know that they go beyond protecting your child's teeth, tongue, cheeks and jaw? These mouthpieces have also been shown to improve strength, endurance and reaction time, as well as reduce athletic stress.
And they're not just for football players, either. Those participating in volleyball, soccer, hockey and even triathlons can reap big benefits.
In fact, according to a study published in the Journal of Strength & Conditioning Research, an ArmourBite mouthpiece (available from sporting goods company Under Armour) can significantly lower an athlete's cortisol levels after one hour of intense exercise.
The study showed that cortisol levels were lowered by 51% at 10 minutes post-exercise in the participants wearing the mouthpiece over those who did not. Cortisol levels were measured on all the participants (college football players) before, during and after a 60-minute session of intense resistance training.
Lowering an athlete's cortisol levels more quickly after exercise gives the muscles an opportunity to repair faster and help prepare an athlete for the next workout.
Meanwhile, research published in the Journal of the American Dental Association finds that wearing an ArmourBite® mouthpiece improves endurance, exercise intensity and recovery.
Study participants wearing the mouthpiece during steady state exercise experienced significant improvements in their oxygen and carbon dioxide exchanges. Specifically, the participants wearing ArmourBite took in 29% more oxygen, while expelling 21% more carbon dioxide than the subjects not wearing the mouthpiece.
"Our initial research showed an improvement in endurance, but this latest study identifies the exact gas exchange mechanism that was contributing to those positive results," said Dr. Dena Garner, head of the Department of Health, Exercise and Sports Science at The Citadel. "These endurance findings are significant for any athlete, but particularly those involved in endurance sports such as running, triathlons, football, hockey and soccer."
How does it work? The mouthpiece creates a small separation between the lower and upper teeth, while shifting the jaw down and forward. This re-positioning has been proven to help reduce cortisol and lactate levels.
What's more, here at Gladstone Family Dentistry, we can make a custom mouthguard that will benefit any athlete in your family. So if you have a high school or college athlete in the family, share the knowledge!