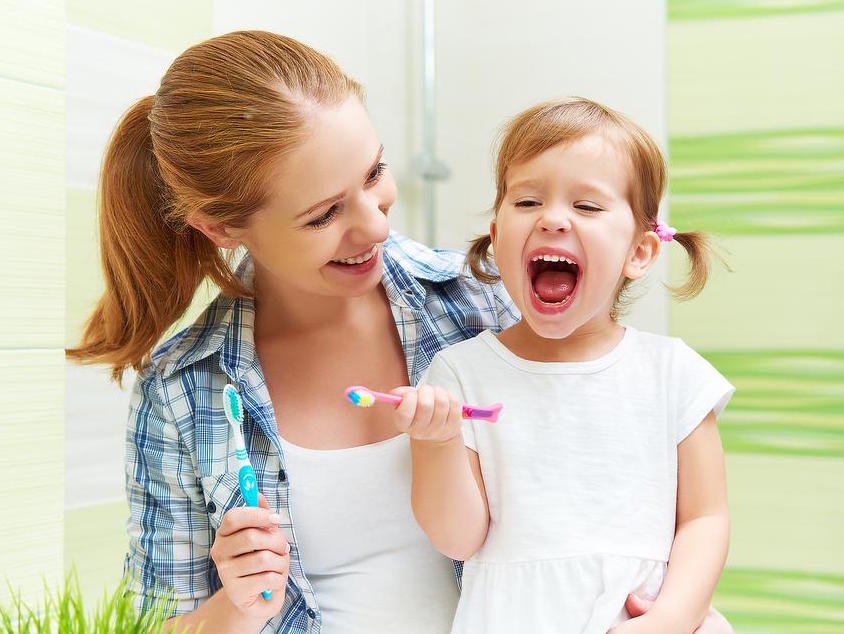 Developing good oral care habits and scheduling regular dental visits at an early age is important to keep your child's teeth and gums healthy as they grow. And the key to instilling these good habits is to make them FUN!
February is National Children's Dental Health Month, hosted by the American Dental Association. This month-long national health observance brings together thousands of dedicated professionals, healthcare providers, and educators to promote the benefits of good oral health to children and their families.
This year's campaign slogan is "Brush and clean in between to build a healthy smile!" Share the message with your kids with this fun coloring sheet and this maze activity.
And read on for 5 ways to make dental care more fun for your kids!
1. Use a Special Brush & Toothpaste
If your child isn't too excited about toothbrush time, try a fun toothpaste made just for kids. Often, the fun packaging and flavors (like strawberry, bubble gum or watermelon) does the trick. And if you opt for a colorful, fun toothbrush, it can help maintain interest. Be sure to choose a soft-bristled brush that is gentle on your child's gums.
2. Make Teeth Brushing a Game
The American Dental Association recommends brushing for two minutes. Get a fun and colorful timer and set it for two minutes to help your child count down the process. Play or sing a special song during the routine to keep your little one engaged.
3. Use a Sticker Reward System
Whether you use gold stars or tooth stickers, engage your child in a reward system that gets them excited about brushing their teeth. Decorate a goal poster together, and let your child post a sticker to the board each time they clean their teeth. At the end of the week, offer a reward based on all the stickers earned.
4. Make Dentist Visits a Positive Experience
Offer kids a special reward for going to the dentist. Whether it's a trip to the park or a stop for their favorite lunch afterward, plan something fun immediately following your appointment. The positive reinforcement will help your child associate going to the dentist with fun activities!
5. Brush and Floss Together
Kids love to mimic what their parents do. Set an example by brushing and flossing with your children and showing them proper technique.
At Gladstone Family Dentistry, we love making dental care fun for kids! Give our office a call at (503) 657-3077 to schedule an appointment or you can contact our other two offices. Hollywood Family Dentistry @ 503-281-9612, Sunnyside Family Dentistry @ 503-698-1112 and we'll help your child learn to love their teeth cleanings.