Everyone wants a beautiful smile. In fact, many people were born with gorgeous smiles but, as they aged, their teeth showed some wear and tear. Modern cosmetic dentistry can help repair the signs of age, restoring your natural, lovely smile once again.
Cosmetic Dentistry Smile Solutions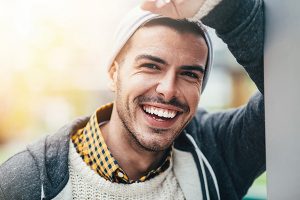 There are techniques to fix just about any issues you may have with how your teeth look. Here are several cosmetic procedures we offer here at Gladstone Family Dentistry, along with the issues they repair:
Tooth Whitening
You may have tried at-home treatments, which can gradually help your teeth get whiter over time. However, none of these products work nearly as well as a single visit to the dentist. We utilize state-of-the-art technology that whitens without damaging your teeth. Read More about Tooth Whitening
Veneers
If you have chipped or broken teeth or there are gaps in your smile, you can get porcelain veneers permanently bonded to your teeth to make your smile absolutely perfect. The veneer functions as tooth enamel, so your teeth will stay white for years to come. Read More about Veneers
Invisalign™ or Six Month Smiles
We offer two teeth straightening procedures here at Gladstone Family Dentistry. These are Invisalign™ and Six Month Smiles.
Many people have heard of Invisalign™. This is a gentle and braces-free way to move your teeth into proper alignment. It often takes about a year of treatment and there are no metal braces or major discomfort involved.
Six Month Smiles is a low impact solution to braces. These are plastic orthodontic tools that primarily focus on straightening the teeth that show when you smile, not every single tooth. This helps alleviate misaligned teeth and some spacing issues, but will not address one's bite or symptoms of TMJ Disorder, as Invisalign™ would. Read More about Invisalign or Six Month Smiles
Onlays and Inlays
Tooth onlays and inlays are a great option to a crown when a tooth has decayed beyond the need of a filling, but still is not ready for a crown. They are both a cosmetic and a practical solution to tooth decay. Read More about Onlays and Inlays
Cosmetic Bonding
Chipped or broken teeth can be repaired with cosmetic bonding. This process fills the gap with tooth-colored filler materials that are matched to your existing teeth. Read More about Cosmetic Bonding
Dental Implants
Implants aren't just cosmetic. This is a long-term solution to tooth loss that can keep your bones and remaining teeth healthy. Simply put, a post is fused to your bone and a cap is placed over it. This new prosthetic tooth – or teeth – will last a very long time and can be cared for like a regular tooth.Read More about Dental Implants
Smile Maintenance
Whether you have the perfect smile right now or you are getting some cosmetic dentistry done to help your smile out, it's important to maintain your dental health. Here at Gladstone Family Dentistry, we know that regular maintenance is extremely important to tooth, gum and overall health. That's why we offer regular care and maintenance to all of our patients, whether they originally came to us for a cosmetic procedure, a crown or an implant. We are here for all of your dental care needs.
We would love to help you attain the best smile possible! Contact us today to make an appointment.