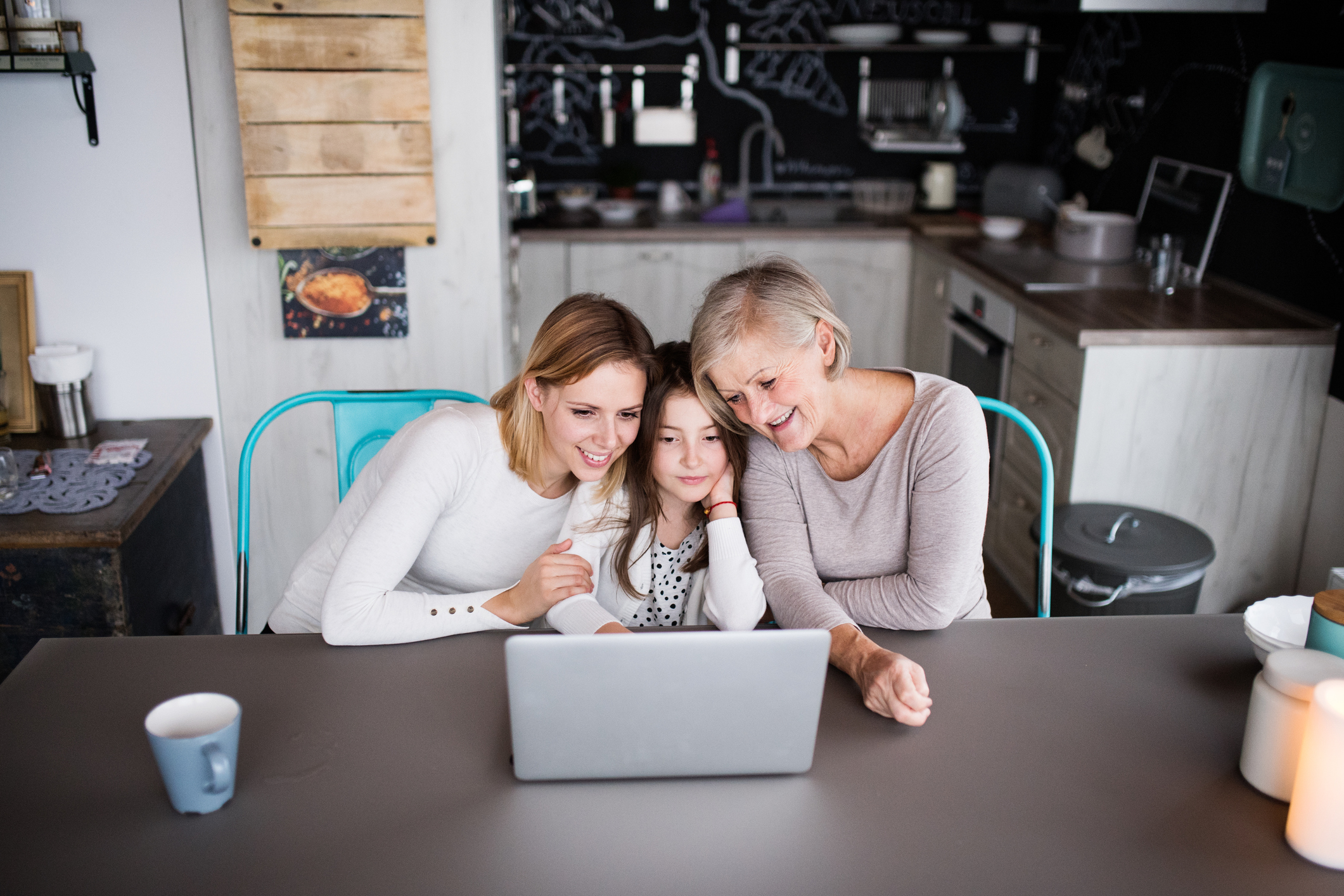 Family Dentistry
At Gladstone Family Dentistry we provide dental care to all ages. We provide services that provide enhancing your smile, repairing your smile, and replacing missing teeth. You will find at Gladstone Family Dentistry our dentist, hygienist, and supporting team members will be able to help guide you in deciding what treatment needs are best for you.
Fillings – Composite & Tooth Colored
Our seasoned and experienced Gladstone dentists are experts when it comes to spotting and treating cavities and tooth decay. When decay has damaged or destroyed parts of your tooth, it can cause pain and eventual loss of the tooth. We can stop the decay by filling the cavity before it becomes a more serious problem.
Fillings are a procedure in which the decayed parts of a tooth are removed and replaced with some other viable material such as porcelain, gold, amalgam or composite resin. By removing and replacing the decayed part of the tooth, you are restoring normal functionality to your tooth.
After first numbing the area with a local anesthetic, a dentist will use a drill or special laser to remove all of the decayed sections of the tooth. Next, the dentist will clean out the area that has been drilled. If the tooth decay was near the root, then the dentist will usually put in a protective liner that safeguards the nerve. After the area has been cleaned sufficiently, the dentist will actually fill the area with material. Our dentists use a high quality, tooth-colored composite resin. Once the filling has hardened, the dentist will sculpt and polish it until it has the desired look and feel.
We are committed to being a full-service dental practice. We do routine cleanings and evaluations, root canals, crowns, bridges, sealants, tooth implants and extractions, soft tissue treatment, tissue re-contouring, laser gum therapy and a multitude of other professional dental services.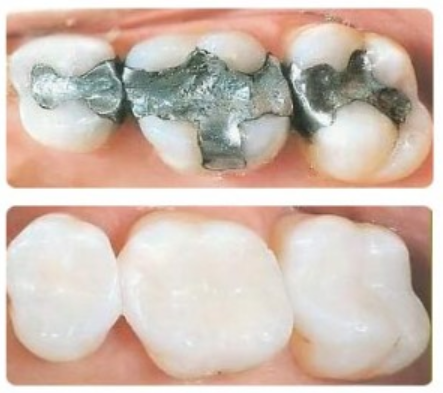 Root Canal Treatment
Root canals are fairly simple and straightforward treatments, and our highly accomplished and caring Gladstone dentists are more than capable of performing them while also ensuring that our patients are comfortable throughout the process.
A root canal is a procedure that is used to salvage a tooth that has been badly damaged by decay or infection. If the pulp or nerves in your teeth become infected, then it is time for a root canal.
A root canal usually takes one to two visits to complete. First, the dentist will numb the tooth. Then they will use a special drill to bore an access hole into the tooth. Using special cleaning devices, the dentist will remove all of the decay and debris all the way down the root canal. After all of the nastiness has been cleaned and removed, the dentist will fill the inside of the tooth with a rubber substance called "gutta percha". After the inner tooth has been filled, the dentist will seal the drill hole in the tooth with a filling or a crown.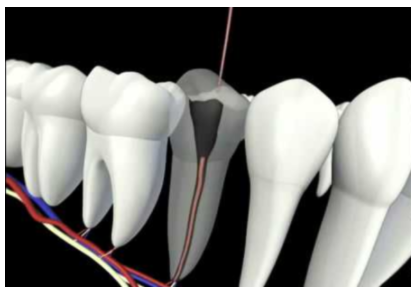 Crowns
Crowns are "caps" that are placed on damaged or decayed teeth that are shaped to look like natural teeth. Crowns are meant to cover the entire visible part of a tooth above the gum line, adding strength and restoring the original shape of teeth. Having a crown placed usually takes two dental appointments to complete.
On the first visit, the dentist will numb the tooth, shave it down and take a mold of the tooth. The mold is used to make a crown that fits the tooth perfectly. On the next visit, the dentist will place the crown over the tooth and make sure that it is the right fit. Once they have determined that it is, they will permanently bond the crown to the tooth using a special cement or glue product. Our dentists use gold, porcelain fused with metal and porcelain/zirconia materials to make long lasting crowns that can be made to match the color of your natural teeth.
Bridges
Losing a tooth (or teeth) as an adult can be a terrifying and disheartening experience, and can have some serious consequences. If you lose an adult tooth, other teeth can shift their position and your bite pattern can become altered.  A missing tooth can also have an effect on your ability to speak normally.
If a patient is missing one tooth, then a bridge will fill the gap with an artificial tooth and will permanently hold the fake tooth, called a "Pontic", in place by attaching it to the adjacent natural teeth with crowns. Natural teeth can support Bridges as well as tooth implants. They can restore someone's smile and self-esteem as well as improve chewing and biting.
Bridge placement takes at least two dental appointments to complete. In the first appointment, the dentist will shape the adjacent teeth so that crowns can be placed on them. With the second appointment the dentist will install the permanent bridge and will evaluate the bridge to ensure that it fits right. This process can take multiple appointments because the dentist has to take the time to ensure the bridge fits nice and snug.
Bridges are just one service we offer. As a family focused practice, we have made it a point to offer a full list of comprehensive and cosmetic dental services. From regular prophylaxis appointments and orthodontic evaluations to root canals and gum grafts, we can accommodate the dental health needs of you and your entire family.
Whitening your Teeth in the Dentist's Office
Our Gladstone dentists provide professional-quality tooth whitening treatments for our patients. There are a lot of things out there that can stain our teeth—foods and beverages such as tea, coffee, soy sauce and berries are known for their tooth-staining abilities. Regular consumption of tobacco, caffeine and alcohol can also stain teeth over time.
Many people are using advanced whitening treatments to make their teeth look healthy again. There are many over-the-counter tooth-whitening products, but the majority of them won't whiten your teeth as much as a single visit to the dentist can. Some whitening toothpastes can whiten your teeth, but also contain materials that can wear down the enamel on your teeth with regular use.
We use the latest in tooth whitening technology to greatly improve the look of your smile without harming your teeth, a special bleaching agent that is applied directly to the teeth. Best of all, it usually takes just one office visit to complete.
Cosmetic Bonding
Our friendly dentists are adept at performing cosmetic bonding procedures. A dental cosmetic bonding is the process of fixing a chipped or broken tooth by using a special tooth-colored filler material. Bonding can also be used to fill big gaps between teeth and also to change the shape of a tooth. It is a very easy and straightforward procedure, and can be completed in one visit.
First, the dentist matches the color of the bonding material to the color of your teeth. Then they gently scratch the surface of the tooth to make the bonding material stick better. The dentist then applies the bonding material, which can be shaped and sculpted to its desired form. Once it is the right shape, the dentist will solidify the bonding material by using ultraviolet light or lasers. Once it is firm enough, the dentist will polish the material until it matches the shading of your natural teeth. It is important to remember that the bonding materials used are not as strong as your actual teeth. It is wise to avoid chewing your nails or crunching on ice cubes after you have had a cosmetic bonding done. The material will last up to five years if you practice good oral hygiene.
Porcelain Veneers
Our proficient and compassionate dentists are professionals when it comes to placing porcelain veneers. Porcelain veneers are thin sheets of dental porcelain, which are permanently bonded to teeth. Some reasons for getting porcelain veneers include broken or chipped teeth, stains, gaps and crooked teeth. Porcelain veneers can be custom-fitted to your teeth to improve the look of your smile.
While porcelain veneers are designed to improve the aesthetics of your teeth, they also function as tooth enamel. To place a veneer on a tooth, our dentists must first chip away a tiny layer of enamel to make room for the veneer. Then our dentists use a cohesive resin to firmly bond the veneer to the front surface of the tooth. Unlike your natural teeth, porcelain veneers are actually highly resistant to stains and will stay white for years. While porcelain veneers are very sturdy and compare in strength to natural teeth, we would still recommend that you avoid activities that damage regular teeth, such as crunching on ice cubes or opening bottles with your veneers.
Invisalign Invisible Braces
Invisalign™ Invisible Braces are a cutting edge alternative to braces that our dentists are pleased to offer. Like conventional braces, they are worn 24/7, but one of the key advantages is that you can take them out when you eat or brush and floss your teeth, giving you more freedom with your food choices and better dental hygiene. When you combine this with Invisalign nearly invisible appearance, you've got an amazing alternative treatment for many patients!
How do they work?
Using a series of clear trays custom-molded for your teeth, Invisalign™ delicately moves your teeth into their proper alignment. All you have to do is switch to a new tray every two weeks. Each new tray is formed to put gentle pressure on your teeth to nudge them just a bit closer to straight. After about one year of treatment your smile will be transformed!
When you come in for your first appointment, we'll do a series of standing x-rays and take impressions of your teeth to better understand your bite. We'll create a customized plan for your trays, and then all you have to do is wear them. We'll see you for brief appointments every six weeks, just so we can monitor your progress, but you can relax; the trays do all the work.
What's the big deal?
Whereas braces may be uncomfortable at times, Invisalign™ is designed to be much more gentle on your mouth. With Invisalign, you don't have to worry about tightening any wires or fiddling with metal parts. The Invisalign™ "braces" are nearly invisible, so you can discreetly straighten your teeth without negatively affecting your appearance. Invisalign costs about the same as traditional metal braces, depending on the severity of the case. Insurance plans also tend to offer the same coverage that they would offer for traditional braces.
Who can benefit from Invisalign™?
Invisalign braces can reduce the gap between front teeth, ease overcrowding, and realign a patient's bite, all issues that can cause tooth decay or wearing down of teeth. They can also improve Temporomandibular Joint Disorder—which can cause pain, tension, and popping in the TMJ—because of poor alignment of the bite. Whether your concern is purely cosmetic or because you want to keep your teeth healthy, Invisalign could be the perfect solution for you. For more success stories, check out Invisalign website!
Single & Multiple Dental Implants
A dental implant is designed to provide support, function, and a natural look. Dental implants are designed to replace already missing teeth, or teeth that may need to be removed.
At Gladstone Family Dentistry Dr. Jeremy Kato has the expertise to provide you with treatment options that will best fit your dental needs with replacing any missing teeth. Single Dental Implants are just one of the options they may recommend.
What is a Dental Implant Crown?
A dental implant crown is made of three different components that will attach to each other for your final restoration. The three different parts are the placement of the implant post, Implant abutment, Implant Crown.
 Implant Post
A dental implant is a titanium post that is surgically placed in healthy bone. This is the part of the implant that replaces the root structure of a natural tooth.  Before placing an implant post into the bone Dr. Jeremy Kato will make sure your bone is healthy to support an implant placement.
Implant Abutment
An implant abutment is a connector that will build into or attach the top of your dental implant crown.  The attachment connects the implant with the implant crown to keep it firmly in place. Dr. Jeremy Kato is an experienced dentist with being able to complete the entire implant tooth from start to finish.
 Implant Crown
An implant crown is custom made to your implant abutment to attach to the implant post. The implant crown is the final restoration to completing your new implant tooth. An implant crown looks and feels close to your natural tooth. The implant crown will provide you with the ability to chew, smile, and have confidence in your over all dental health. Dr. Jeremy Kato will permanently cement your implant crown, adjust the bite, and make sure the final restoration fits your bite.
What you can expect from start to finish with completing your implant crown.
Phase 1:  Placing your implant post
Once your bone is healthy and ready to place your dental implant post. You can expect this to take one appointment to place the implant post into your bone. Once the implant is placed securely into your healthy bone it will take up to 4 – 6 months for the bone to adhere to your dental implant post. Note between the 4 – 6 months of healing you will have follow up appointments to check for the progress of your treatment. These appointments will be short and quick. At these visit the dental assistant will take and updated image x-ray for the dentist to review.  Dr. Jeremy Kato will walk you through the entire process from the time he places our implant post, to completing your final implant crown.
Phase 2: Attaching Implant Crown to Implant
After completing 4 -6 months of healing with your implant post now secure in the bone. It will be time to take the final impressions for making your permanent dental implant crown. At this appointment final impression will be taken to send off to our professional dental lab to have your implant crown custom made to you. This will take about 3 weeks to have made. Dr. Jeremy Kato will complete the final impression for your implant crown to be custom fitted to your implant post.
Phase 3: Seat Implant Crown
At this phase of your treatment you can expect to have your final implant crown seated permanently into your mouth. You will leave your appointment with a new tooth that feels and functions as a natural tooth. Dr. Jeremy Kato will permanently cement your final implant crown to your implant attachment and implant post. Dr. Jeremy Kato will recommend you have our teeth professionally cleaned at least 2 time a year in order to maintain healthy bone around your new investment of your implant crown.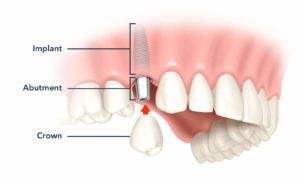 Dental Implant Bridge
Dr. Jeremy Kato may recommend an implant bridge when a patient is missing a single or multiple teeth next to each other.  Since a dental implant bridge can provide a way to fill a gap between one or more missing teeth. A bridge is made up of two or more crowns for the teeth on either side of the gap to be anchoring teeth to attach a false tooth between. This allows you to have less single implant post with utilizing placing 2 implants to support the false teeth in between were you might be missing 1 or more teeth.
What you can expect from start to finish with completing Implant Bridge.
Phase 1: Final impression for implants bridge
Note the implants have already been placed and have healed.
At this visit the dentist will take the final impressions for completing sending off to their dental lab to have custom made to your mouth. You will leave this visit with provisional crowns, which will allow you to eat during your wait time of 3 weeks.
Phase 2: Seat Implant Bridge
After about 3 weeks you will complete your final appointment with having your permanent implant bridge to be fitted and seated. You will leave this visit with being able to smile, chew, and laugh & talk as normal.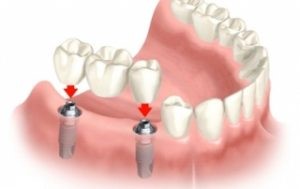 Implant Dentures
Implant dentures is a great option for treatment for someone who has traditional dentures that do not fit, or will be losing all of their natural teeth. An implant denture is designed to support an over denture that attaches to single implants through out your mouth. The following are some implant denture options:
4 on 4 Implant Dentures
4 on 4 implant dentures is a very common type of denture that patients have chosen over the years and have found to be a great option to replacing all their missing teeth. With a 4 on 4 Dr. Jeremy Kato will recommend you have 4 single implant post placed strategically throughout your lower jaw. This will provide support to maintaining the health of your bone that is left after having all your teeth removed. The implant post will also provide a way to attach the implant denture to securely hold your denture in place when you eat, speak, and laugh.
What to expect when designing an implant 4 on 4 dentures:
Step 1: Implant post
Step 2: Implant attachments
Step 3: Implant Denture
Phase 1: Implant Post placed
Once all your teeth have been extracted the next step is placing your dental implant post. When placing the implant titanium post you will find it a very straightforward and comfortable procedure. Dr. Jeremy Kato will make sure you are good and numb in the area of placement. Once your ready he will begin placing your implant. This process can be a well balance time in your appointment.
Phase 2: Implant Denture
Depending on your current needs Dr. Jeremy Kato might provide you a denture to wear through out the phase of your treatment. Once the implants are set and ready to have the denture attached to the implants Dr. Jeremy Kato will complete the final impression.
Phase 3: Seat implant Denture
This is the appointment you have been waiting for. The day everything comes together. You implant denture will not be customized to your implant post, implant attachments to your implant denture. You will now have the choice of leaving in your dentures and removing when you desire.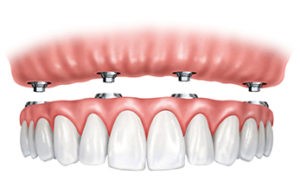 Extractions
Dental Extractions may be needed for many reasons.
Wisdom teeth that are hurting, infected, and or have no room in your mouth.
A tooth that has been fractured through to the root and cant be saved.
A tooth that is severely decayed into the root.
A tooth that has no foundation or structure to restore.
Orthodontic treatment with over crowding teeth.
At Gladstone Family Dentistry our doctors can provide and recommend the best treatment for you as the patient when it is time to make decisions for removing any teeth. Our goal is to protect and save as many natural teeth as possible.